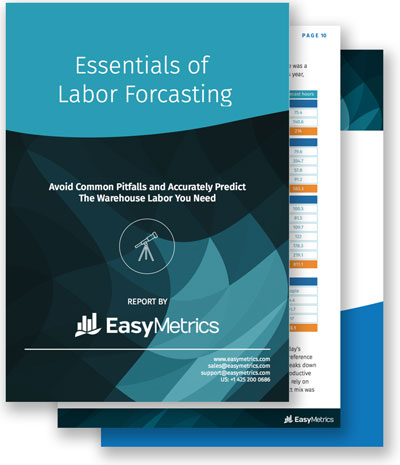 Report
Essentials of Labor Forecasting - dupe
Avoid Common Pitfalls and Accurately Predict the Warehouse Labor You Need
Report
Essentials of Labor Forecasting - dupe
Avoid Common Pitfalls and Accurately Predict the Warehouse Labor You Need
Today's operations leaders overwhelmingly name labor – that is, recruiting and retaining the best talent and managing the efficiency of their employees and teams – as their top priority.
But today's complex customer requirements and fulfillment variability means that everything is in flux. When everything is changing, it's too hard to get an accurate view into when, how much, and where you need labor at any given time. But operations need an accurate labor forecast now more than ever, both to keep their employees happy in a hyper competitive labor environment, and to meet their customer's requirements without going over budget and driving up per-unit costs. Overtime is costly, as is over-staffing, and in both cases, you lose money.
That's why Easy Metrics created the Essentials of Labor Forecasting.
In this guide, you'll learn
How to use historical data in your labor forecast
How to upgrade your forecast from simple volume and averages to a forecast that includes process, product mix, and seasonality
What two critical things are missing from most labor forecasts, and cause the biggest errors