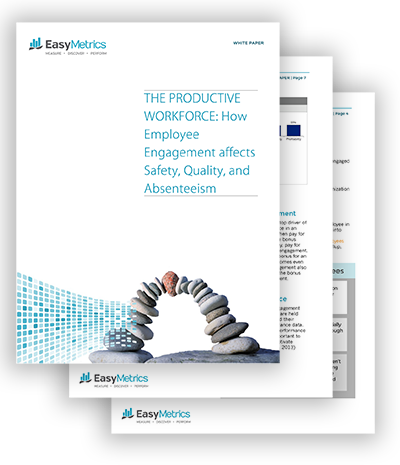 Report
The Productive Workforce - dupe
How Employee Engagement affects Safety, Quality, and Absenteeism
Report
The Productive Workforce - dupe
How Employee Engagement affects Safety, Quality, and Absenteeism
If you had a hunch that you have some employees that are checked out, and disengaged from their work, you're probably right. 70% of employees are not engaged. This causes many problems that spill into areas of safety, productivity, quality, absenteeism, and more. In a distribution environment, employee engagement is critical, and more importantly, achievable with the right plan.
That's why Easy Metrics created The Productive Workforce Report.
In this report, you'll learn:
The primary threats to having dis-engaged employees, by the numbers.
How employee engagement couples perfectly with a solid incentive pay program.
Best practices for employee engagement programs in distribution operations.