While doing an ROI analysis for a customer this week, we discovered 50% of their total labor costs were completely ignored by their WMS. Their Warehouse Management System is from a well-known provider, and measures three critical parts of their operation: Receiving, Picking, and Shipping.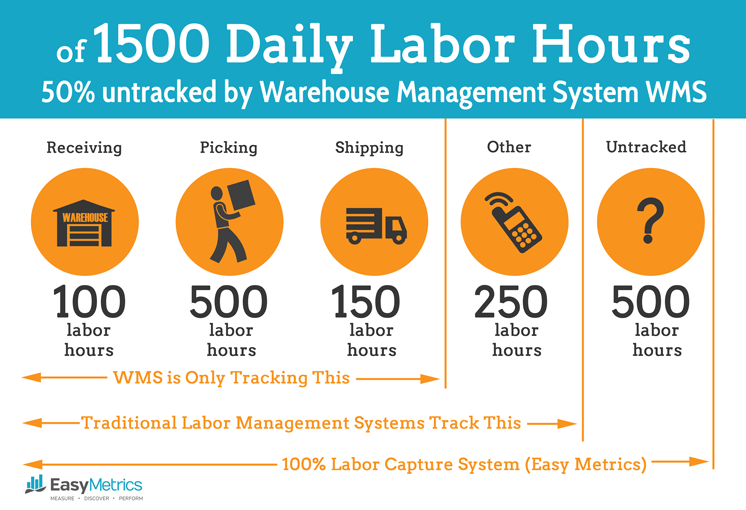 Out of an average day paying 1500 labor hours, 6.7% labor costs went to Receiving, 33% to Picking, and 10% to shipping. They assigned 16.7% to a general, "other" bucket to account for scans that fall outside the main processes (cycle count, general moves, etc).
Time Clocks Reveal WMS Weakness
While their Warehouse Management System was doing a good job tracking inventory, they weren't aware that 33% of their labor hours (500 hours on the chart) were going completely untracked, until we correlated time clocks data to their WMS. And the "Other" category, accounting for 16.7% of their daily labor spend, had no visibility on how these hours were being spent. Combined, these insights showed that 50% of their total labor hours lacked visibility and accountability.
"Too Hard To Capture"
Morning stretches, maintenance, cleanup, changing a forklift battery. All these things are trackable. But the standard excuse is that it's too difficult to capture anything that is not directly tied to productive time. If anyone says, "We know it's a value add but it's only 15% of your labor cost so we aren't going to worry about that" you need to worry.
The untracked labor is where labor costs spiral out of control. Why is this? Because when a system tracks processes, like picking, replenishment, and cycle count, productivity improvements are made and hours are reduced in those areas. But if the employee is still in the building for 8 hours, those saved hours get spent in the other untracked areas. They are still working 8 hours a day, but instead of working 6 hours on tracked processes and 2 hours on untracked processes, they work 4 productive hours on tracked processes and 4 hours on untracked processes. They finish their job early and move over where visibility is non-existent.
Paralysis by Analysis
A standard LMS will look at processes tracked, and measure every detail about that process. It's customary for these processes to get engineered down to the minute detail. They will literally have as many as 14 metrics on one process. Engineers will spend a great deal of time and money trying to get the "perfect" engineered labor standard.
"It will take 5 seconds for this. This one takes 12 seconds, but you can do it in 13 seconds if it's after 3:00 pm and you are tired." – Industrial Engineer
Fair labor standards are critical, as is putting in place systems to hold staff accountable. But labor costs typically go out of control in the untracked buckets. Marginal improvements on processes where standards have been established, like receiving, picking and shipping are helpful – but getting visibility on the whole thing is crucial.
100% Data Capture Solution
Our customers get 100% data capture, not 50%. Here's how we do it.
6:00 am – Joe arrives, punches in – Track it
6:05 am – Joe and his team do morning stretches – Track it
6:15 am – Joe and his team have a start up meeting – Track it
6:40 am – Joe spends 60 minutes box making – Track it
7:40 am – Joe picks up his scan gun and does his first pick – Track it
(Notice how we already have 100 minutes on time that is typically untracked? It's gone.)
8:00 am – Joe finished an incredibly productive picking job – Track it
8:01 am – Joe changes a forklift battery for 30 minutes – Track it
end of day – Joe cleans up for 45 min – Track it
Use Your WMS the Smart Way
We aren't saying throw out your WMS. While a WMS is essential for tracking inventory, it's not adequate to track labor costs and productivity. Think of your WMS as a source of raw data, that when combined with other data will give you more detail and visibility on your labor costs and productivity. Your WMS is one tool from which to get data on all the work being performed.
Keep in mind that but visibility on labor data does not end with processes. You need to look at more than what is tracked on a scan gun, because scan gun data misses 30-50% of labor hours. And untracked labor hours cloud visibility on your costing.
Reveal the whole picture by tracking 100% of your labor spend. Use your WMS data, and integrate it with time clocks and any other data you can get your hands on. For more information on the types of data you can use, see this article : http://www.easymetrics.com/software/data-capture-and-retrieval/